Starlight Tea—Organ & Brass Quintet
Saturday, November 11, 2017
7:00 pm

Margaret Marsch, organ and The Lancaster Brass Quintet
Lancaster Church of the Brethren's Starlight Tea Concert Series is proud to present one of our own! Sanctuary Organist Margaret Marsch is highly regarded for her work here, and also as a recitalist and educator in the region. On Saturday, November 11 at 7:00 pm, Margaret will be joined by the Lancaster Brass Quintet in a joint recital program. The combination of the organ (known as the "King of Instruments") and five superb instrumentalists will provide a marvelous evening of music!
Margaret Marsch is a graduate of Moody Bible Institute (Chicago) and Westminster Choir College (Princeton, NJ). As an organist, she has performed recitals in The National Cathedral, Bruton Parish in Williamsburg, VA, and the Forum in Harrisburg, and has accompanied choirs in The White House, as well as on choral tours across the continental United States, Hawaii, Canada and Europe.
Margaret is an active member of the Lancaster Chapter of the American Guild of Organists, and is a counselor for the Workshop for Young Performing Artists. Margaret and her husband Lenny live in Lancaster, and are the parents of five musical daughters with whom they have recorded three CDs and presented many musical programs, including multiple performances at the Pennsylvania State Capitol, the Pennsylvania Governor's Residence, Longwood Gardens and the White House.
The Lancaster Brass Quintet consists of Scott Ainscough and Melanie Miller, trumpets; Anne Nye, horn; Tracy S. Burke, trombone; and Gerald D. Heilner, II, bass trombone. Performing music brought to the forefront by such renowned ensembles as the Empire Brass and the Canadian Brass, the professional musicians of the Quintet bring the sound and excitement of brass music to audiences by performing a wide variety of literature, including jazz, show tunes, sacred music, marches and original works for brass.
Like all Starlight Tea concerts, this one is free, with a free-will offering taken. Please make plans to attend! You will be delighted by this musical offering! Lancaster Church of the Brethren, 1601 Sunset Avenue, Lancaster.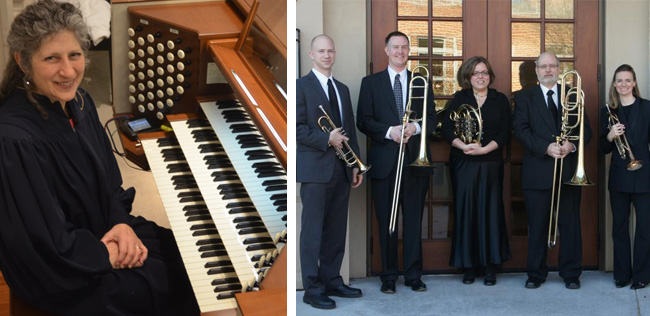 Click here to download a flyer for the 2017–2018 Starlight Tea Concert Series events.