Starlight Tea—Xun Pan, piano
Sunday, February 4, 2018
4:00 pm

The Starlight Tea Concert Series is thrilled to once again feature pianist Xun Pan in recital on Sunday, Feb. 4, 2018 at 4:00 pm. Please be sure to note the special day and time for this concert! Piano virtuoso Xun Pan has delighted audiences worldwide with his sensitive and powerful playing. Dr. Pan's musicianship is a treasure not to be missed!
Chinese-American pianist Xun Pan received his early musical training from his grandmother and pianists-parents, Pan Yiming and Ying Shizhen. He continued his studies at the Central Conservatory of Music in Beijing, Syracuse University in New York, and earned the Doctor of Musical Arts degree from Rutgers University in New Jersey.
Dr. Pan has won many international piano competitions and awards, beginning with first prize in the 1986 China National Piano Competition in Beijing, and the "Dr. Luis Sigall" International Piano Competition in Chile in 1987, the International Festival Piano Competition in Korea in 1990, the Frinna Awerbuch International Piano Competition in New York in 1992, and the Artists International Competition in New York in 1993. A noted chamber musician as well, Xun is the pianist of the Newstead Trio and Trio Clavino. Their work has been broadcast live on radio and television, and they have released several highly acclaimed recordings. Trio Clavino toured seven cities in China with Fulbright Grants managed by US Embassy in Beijing in 2014 and again in 2017.
Dr. Pan is a Professor of Piano and Director of Keyboard Studies and Pre-College Music Division at Millersville University of Pennsylvania Music Department, and is a visiting professor at many universities and conservatories in China. He is one of the founding members and the Artistic Director of the Lancaster International Piano Festival in Lancaster, Pennsylvania.
The program will include works by Mozart, Beethoven and Liszt, and a work by Chinese composer Chen Peixun entitled Autumn Moon on a Placid Lake. The concert is free, with a free-will offering taken, and the musical delights will be boundless! Be sure to invite your friends to this special Sunday afternoon concert!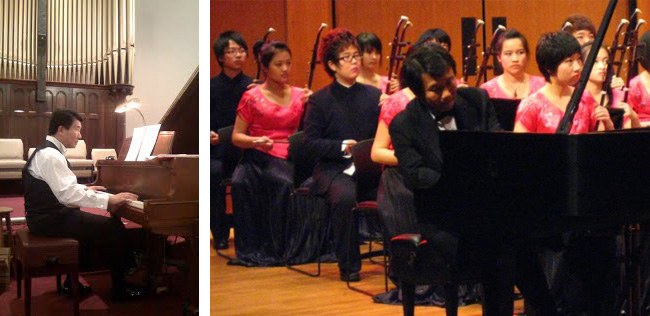 Click here to download a flyer for the 2017–2018 Starlight Tea Concert Series events.