Holiday Events
Saturday, December 2
Family Christmas Breakfast and Caroling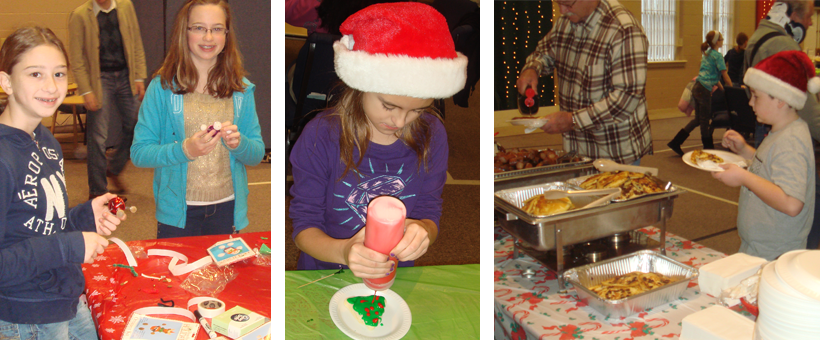 Looking for a wonderful way to celebrate the Christmas season? Come and enjoy some family time around the breakfast table at 9:00 a.m. Pancakes, sausage, fruit and drinks will be provided. There will be cookie decorating and a small craft for the kids. Afterward, we'll move out of the church and hit the road as we sing carols through the community. It's a special morning not to be missed! There is no fee. However, if you would like to make a small donation, it would be appreciated. Please R.S.V.P. to Jamie Nace: jnace77@gmail.com
Saturday, December 9
Family Christmas Event
at 5:00 p.m. in the Family Life Center
Deuteronomy 31:12 says, "Gather the people together…" So, gather your family and friends Saturday, December 9, at 5:00 p.m. in the Family Life Center for this special Christmas program and dinner. There will be a special Christmas presentation after the meal. The main purpose of this celebration is to experience something new and inspiring—to create a "NEW" tradition—that God may use the talents He has given the children, youth and this church. If you are able (and this is not necessary), please bring a favorite ethnic side dish or dessert to share.
Sunday, December 17
Blue Christmas Service
at 4:30 p.m. in the Sanctuary
The holidays can be a difficult time. Sometimes feelings of loss, loneliness, and despair make celebrating impossible. We will gather on December 17 at 4:30 p.m. in the Sanctuary to remember that Christ comes to our darkness—to our difficult emotions, our complicated situations, our grief—so we need not pretend the darkness does not exist. None of us walks alone. Join us for music, scripture, and reflection. And may we all know that the light of the world truly comes to us.
Sunday, December 24
Family Christmas Eve Service
New Time for 2017! 10:15 a.m. in the Family Life Center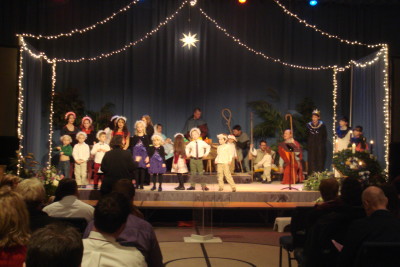 Come and see! Go and tell!
"Nearby shepherds were living in the fields, guarding their sheep at night. The Lord's angel stood before them, the Lord's glory shone around them, and they were terrified. The angel said, "Don't be afraid! Look! I bring good news to you—wonderful, joyous news for all people. Your savior is born today in David's city. He is Christ the Lord!" … "Let's go right now to Bethlehem and see what's happened. Let's confirm what the Lord has revealed to us."
The shepherds were told about Jesus' birth and they chose to "come and see" the savior born for the world. But, they didn't keep it to themselves. They were so amazed they just had to "go and tell" the good news!
We would love for you to join us in that celebration at our Christmas Eve Family Service at 10:15 a.m. in the Family Life Center. This service is designed for the whole family from smallest infant to oldest grandparent. There is something for everyone. We'll enjoy worship full of singing, prayer, scripture, and reflection—all designed with the entire family in mind. Our children's music classes will be performing some beautiful music for us, too. You won't want to miss it! No matter your age or stage in life, you will leave this service full of the hope of Jesus and full of light to share with the world. "For to us a son is born, to us a son is given." Come and see! Go and tell!
Though our service is specifically designed to be family-friendly for all ages, childcare will be available that morning for those who wish to utilize this service.
Christmas Recital & Candlelight Service
at 6:30 p.m. in the Sanctuary
On Christmas Eve in the Sanctuary, we continue our annual tradition of the gentle, contemplative service known as the "Festival of Lessons and Carols." This service combines readings from scripture with choral anthems, congregational carols and an appearance by the Holy Family. This year, the Chancel Choir will present three anthems: As the Dark Awaits the Dawn by Christopher Aspaas, See Amid the Winter's Snow by Dan Forrest, and a lovely arrangement of O Little Town of Bethlehem, also by Dan Forrest.
It is a time to set aside the hectic pace of our lives during this busy season, and meditate on the true meaning of Christmas. Again continuing an annual tradition, the service concludes with the congregational singing of Silent Night, as each person raises his or her candle to symbolize the light of Christ spreading throughout the world.
The service begins at 6:30 p.m. with the Christmas Recital, in which the talented musicians of our congregation present music celebrating Christmas and the Christ Child. We are so blessed by the musical talent in our church — come let them bless you with their gifts during this holy season! The Candlelight Lessons and Carols will follow at 7:00 p.m. This popular service always fills the Sanctuary, so be sure to arrive early to begin celebrating the birth of Jesus!
Monday, January 1
New Year's Day Pork & Sauerkraut Dinner
All you can eat: Pork & Sauerkraut • Hot Dogs • Mashed Potatoes • Apple Sauce • Roll & Dessert — 11:00 a.m. – 2:00 p.m. — $10.00 per Adult, $5.00 under 8 yrs. — Takeout available.
Sunday, January 7
Starlight Tea Epiphany Concert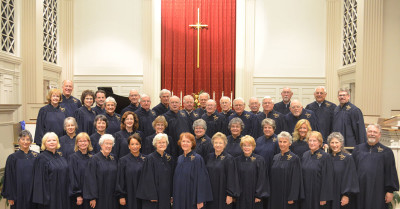 On Sunday, January 7, 2017 at 7:00 pm in the Sanctuary, our annual Starlight Tea Epiphany Concert returns as one of the most-beloved traditions at Lancaster Church of the Brethren! Each year, the Chancel Choir, the Carillon Bell Choir, soloists and instrumentalists join to take one more look at the music of Advent, Christmas and beyond. Organist Margaret Marsch is featured in a solo piece, highlighting both her artistry and LCOB's superb organ. We will welcome some special guest instrumentalists as well: violinist Simon Maurer, oboist Jeffrey O'Donnell, flutist C. J. Flint, and percussionist Jamie Nace.
This year's concert features the music of composer Dan Forrest, who has in recent years become a major composer of music for the church. His music ranges from gentle, peaceful carols to stirring anthems of praise! We will perform six different compositions by Forrest, including See Amid the Winter's Snow, He Is Born, O Little Town of Bethlehem, The First Noel, Angels From the Realms of Glory, and The Work of Christmas.
In addition, the choir will sing Gustav Holst's wonderful carol arrangement entitled Christmas Day, and Richard Shepherd's Mass of the Nativity, which uses ancient carol tunes to set the traditional Latin text of the Mass. The Carillon Bell Choir will ring two pieces, beginning with an amazing arrangement of three different carols entitled On Christmas Day in the Morn by Fred Gramann. They will be joined by oboe and flute in a setting of the familiar carol Greensleeves by Hart Morris.
Following the concert, join us for the Starlight Tea, featuring home-made cookies by the chefs of our congregation! Admission is free, and the joy is contagious — bring all your friends!