February 5, 2021
Souper Bowl of Caring Fundraiser
LCOB youth will be receiving donations for the Lancaster County Food Hub on Sunday from 12:30 to 2:30 as part of the Souper Bowl of Caring. Anyone who donates through the Drive-Thru End Zone receives a grilled hot dog served up by Bob & Misty Wintsch, chips, and a drink.
Types of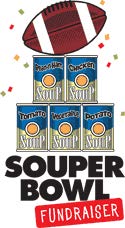 food needed are: cereal, juice (64 oz.), cans of beans, soup, vegetables, tomato sauce, prepared meals (ravioli, spaghetti), canned meat (tuna, chicken), peanut butter, pasta, macaroni and cheese, rice, dried beans, stuffing, meal "helpers," condiments, snacks, Jello, and pudding.
Cash or checks also are welcome. Make checks payable to Lancaster Church of the Brethren with "Food Hub" written in the memo line.
The Souper Bowl of Caring is a one-day event to tackle hunger, but if you can't get into the end zone on Super Bowl Sunday, you still can cheer us on by dropping off donations at the church during office hours the following week. Any donations received from February 7–12 will be included as part of the Super Bowl event.