Holiday Events
Saturday, December 7
Women's Fellowship Christmas Breakfast
at 9:00 a.m. in the Family Life Center
All women are invited to come and enjoy a hot breakfast on Saturday, December 7, at 9:00 a.m. in the FLC. Join in the fun of another "White Elephant" gift exchange. Bring along a wrapped funny, unwanted gag, or cute gift to exchange.
You will also have a chance to win a door prize! If you have a "Secret Sister," don't forget your Christmas gift for her. This is the day of your Secret Sister reveal.
Bring along a friend to share in the fun and fellowship. Any questions, contact Donna Lunger or Vicki von Schaaf.
Saturday, December 14
Christmas Breakfast
Free pancakes!!! Doesn't that sound wonderful? Have you heard about our annual Christmas Breakfast? You may recall we used to call it the "Christmas Family Breakfast." Many thought that meant it was only for families with children. Oh no! It's for ALL of you…the whole church family! Whether you're 3 or 103, you gotta eat breakfast, right?
Join us on Saturday, December 14, at 9:00 a.m. in the FLC for pancakes, sausage, juice, and coffee. There will be activities for children AND adults including singing some Christmas songs around the piano! There is no charge for this event. Contact Jamie Nace by December 2 to RSVP so she can get a head-count. We hope to see you there!
Saturday, December 14
Multicultural Christmas Celebration and Potluck Supper
at 5:00 p.m. in the Family Life Center
The Cross-Cultural Committee is looking forward to the annual International Potluck Dinner. There will be plenty of fun, food, caroling, and entertainment!
Friday, December 20
Charlie Brown Christmas Concert
at 7:00 p.m. in the Sanctuary
It's a Charlie Brown Christmas! with Paul Murr and the Snowflakes featuring LCOB's children's choirs!
The 2019 "Songs in the Chapel" series wraps up on December 20 in the sanctuary with the classic "It's a Charlie Brown Christmas!" The event starts at 7:00 p.m. and everyone is welcome. Local jazz band Paul Murr & the Snowflakes will perform the soundtrack in its entirety, with Jamie Nace's kids joining in on "Christmastime is Here." The Youth Praise Band "Young Testament" will be opening the night with Christmas classics and an original composition written especially for the occasion by the youth. Invite all your friends and family for this spectacular evening of Christmas joy! The concert starts at 7:00 p.m., concludes at 9:00 p.m., and includes a brief intermission where light snacks will be served.
Saturday, December 21
Blue Christmas Service
at 4:00 p.m. in the Sanctuary
A Blue Christmas service is a time of worship aimed at creating that space to acknowledge that there is often darkness and hurt at this time of year, mixed in with the hope and joy. It is a time where we recognize that we need God to come among us—to BE Emmanuel, God with us, in our fear, loneliness, and pain, as well as in our celebration. On Saturday, December 21, at 4:00 p.m. we will gather as a community of faith for a Blue Christmas Service. All are welcome. The service will be simple in format, allowing for prayer, reflection, and singing. We will gather as the darkness of evening grows, trusting that with the advent of Emmanuel, light can truly shine into all of our lives.
Tuesday, December 24
Family Christmas Eve Service
at 4:00 p.m. in the Sanctuary
Join us for a family-friendly, interactive Christmas service on Tuesday, December 24, at 4:00 p.m. in our Sanctuary. We will tell the story of the humble birth of Jesus in a way both little and not-so-little find meaningful. It will be a special time for all who attend! Come a little early or stay a little late to have your family picture taken (A digital copy will be sent to you) in the Heritage Center just inside the portico doors. Questions? Contact Jamie Nace
Christmas Recital & Candlelight Service
at 6:30 p.m. in the Sanctuary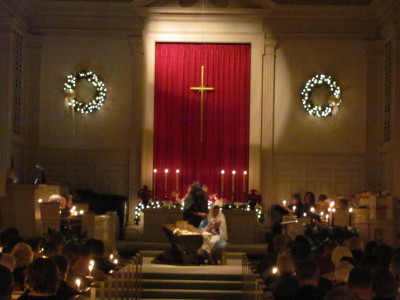 On Christmas Eve in the Sanctuary, we continue our annual tradition of the gentle, contemplative service known as the "Festival of Lessons and Carols." This service combines readings from scripture with choral anthems, congregational carols and an appearance by the Holy Family. This year, the Chancel Choir will present three anthems: Come, Emmanuel, Come by Jay Rouse, O Little Town of Bethlehem arranged by Dan Forrest (he just won the Lancaster Symphony Composer of the Year award!), and One Sweet Little Baby by Brethren composer Shawn Kirchner. The first two works also feature our congregation's own professional flutist, C. J. Flint.
It is a time to set aside the hectic pace of our lives during this busy season, and meditate on the true meaning of Christmas. Again continuing an annual tradition, the service concludes with the congregational singing of Silent Night, as each person raises his or her candle to symbolize the light of Christ spreading throughout the world.
The service begins at 6:30 p.m. with the Christmas Recital, in which the talented musicians of our congregation present music celebrating Christmas and the Christ Child. We are so blessed by the musical talent in our church — come let them bless you with their gifts during this holy season! The Candlelight Lessons and Carols will follow at 7:00 p.m. This popular service always fills the Sanctuary, so be sure to arrive early to begin celebrating the birth of Jesus!
Wednesday, January 1
New Year's Day Pork & Sauerkraut Dinner
at 11:00 a.m. in the Family Life Center
The Hospitality Ministry Team will host its annual Pork & Sauerkraut Dinner on Wednesday, January 1, from 11:00 a.m. — 3:00 p.m. in the Family Life Center.
Cost: $12.00 per Adult, $5.00 age 7 & under. Takeout available.
Menu: Pork & Sauerkraut, Hot Dog, Mashed Potatoes, Apple Sauce, Roll & Dessert
January 4 & 5
Starlight Tea Epiphany Concert
7:00 p.m. in the Sanctuary—Saturday, January 4
3:00 p.m. in the Sanctuary—Sunday, January 5

LCOB's annual Starlight Tea Epiphany Concert returns as one of our most-beloved traditions! Each year, the Chancel Choir, the Carillon Bell Choir, soloists and instrumentalists join to take one more look at the music of Advent, Christmas and beyond. We will welcome some special guest instrumentalists as well: the Lancaster Brass Quintet, percussionist Rich Klimowicz, and flutist C. J. Flint.
The centerpiece of the program will be a newly composed setting of Gloria by renowned American composer Daniel Gawthrop. Also featured will be a new setting of the Magnificat by Arlen Clarke, as well as several beloved carols of the season. Brethren composer Shawn Kirchner's One Sweet Little Baby will close the concert.