Our Ministries
Music
Lancaster Church of the Brethren is a musical church! We sing our faith to God in a variety of ways, with ensembles for all ages and in a variety of styles. Come join us as we praise God through song!
Chancel Choir
The Chancel Choir, under the leadership of Director of Music, Emery DeWitt, provides music for our Sanctuary worship service with great music from the past and from modern composers. In addition, the choir is the centerpiece for the annual Starlight Tea Epiphany Concert, held on a Sunday evening in early January. Accompanied by Sanctuary organist Margaret Marsch, rehearsals are fun, fast-paced events! The choir rehearses on Wednesday evenings, 7:45–9:15, September through mid-June. An informal audition is necessary—some music reading skills required.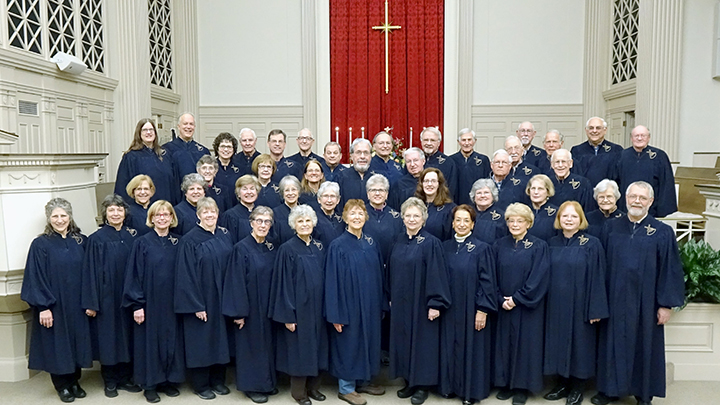 Carillon Bell Choir
The Carillon Bell Choir, also directed by Emery DeWitt, is comprised of eleven ringers who dedicate much time and effort to create the magical effect of handbell ringing! They ring in Sanctuary services approximately monthly, and are also featured in the Starlight Tea Epiphany Concert and in occasional area concerts. Rehearsals are held on Wednesday evenings, 6:30–7:30, September through mid-June. Strong music reading skills are required for this advanced ensemble. There are often opportunities for substitute ringers due to travel or other scheduling issues. Please contact Emery DeWitt if you'd like to try ringing—it's fun!

Chapel Worship
Our Chapel Worship service at 8:00 AM is ably served by Chapel organist Jeanne Heck, who is also responsible for scheduling special music for that service. There are opportunities for soloists (both instrumental and vocal) in all of our worship services—the Chapel service at 8:00 AM, Morning Psalm at 10:15 AM, and the Sanctuary Worship service at 10:15 AM. We would love to talk with you if you are interested in singing or playing to the glory of God!
Morning Psalm Praise Band
The Morning Psalm Praise Band consists of persons who are devoted to sharing their musical talents in service for the Lord. Music is relevant to contemporary spiritual expression, both upbeat and meditative. Instrumentalists (keyboard, acoustic guitar, bass, percussion, and sax) and vocalists provide music for the multiple Morning Psalm contemporary worship services each Sunday, year-round. Rehearsals are held Wednesday evenings at 7:00 PM. Informal auditions are required.

Children & Youth
Ages 0–2
Tuesday evenings—This class is for newborns through age 2 (right up until they turn 3). In this class, our youngest friends experience music, with a parent or caregiver, in a variety of ways. It is a beautiful way to introduce your child to music and to experience community with other parents/caregivers.
Ages 3 and older
Wednesday evenings—Three music classes are available. The Music Makers class, held from 5:45–6:15 p.m., is for children ages 3 and older. This class includes singing, movement, musical games and stories, and instrument play. It is a perfect all-inclusive musical experience! The Mallets and More class, held from 6:15–6:45 p.m., is for children age 6 and older. This class offers children an opportunity to explore more advanced instrumental play on xylophones, bells, and other instruments. The Junior Ringers class, held from 6:45–7:15 p.m., is for children in 4th to 8th grades. In this class, the children/youth learn to play hand chimes. They have a great time making beautiful music!
Please note: Toys, craft supplies, games, etc. are available in another room for any younger siblings who stay while an older sibling is in class.
All music classes will be held in the children's music room at LCOB which is located on the second level of the church. Classes are typically held in the Fall, Winter, and early Spring. Check the events page for scheduled classes.