Our Ministries
Outreach Opportunities
The Outreach Ministry Team (OMT) together with the Hunger & Poverty Team (H & P) is the primary agency of the Lancaster Church of the Brethren (LCOB) to reach out locally and beyond to help people in need. We take the scripture from the Hebrew Bible and the teaching of Christ seriously. If not before, Isaiah gives us a command to help the poor. Jesus tells us, "What you have done for these, you have done for me."
We are involved in fulfilling this command in many ways. More so considering the staggering poverty just in Lancaster County, where one in 10 live below the poverty line.
See below the many areas you are able to be part of this mission. To find out how you may get involved contact Outreach Ministries at lancastercob1958@gmail.com or call the church office at 717–397-4751.
---
Hygiene Kits
LCOB works with Church World Service to provide "Hygiene Kits" for distribution around the country and around the world, wherever the need arises. Within the past year, a 40-foot container with blankets, kits baby items and medical supplies has gone to Zambia. Other hygiene kits have been distributed to homeless and low-income families and shelters in New Mexico, New Jersey, California, Michigan and Florida. In the face of natural disasters, violence, or grinding poverty, Hygiene Kits can mean the difference between sickness and health for struggling families.
Get Involved
Please consider providing items for our hygiene kits or support us financially.
A Hygiene Kit consists of:
One hand towel measuring approximately 16″ x 28″ (no fingertip or bath towels)
One washcloth
One wide-tooth comb
One nail clipper
One bar of soap (bath size in wrapper)
One toothbrush (in original packaging)
Six standard size Band-Aids®
Place all items in a one-gallon plastic bag with a zipper closure, remove excess air from bag and seal. Cartons of toothpaste that have an extended expiration date will be added to Hygiene Kit shipments just prior to shipment.
We will assemble the kits in April 2012. To financially support this endeavor you may write a check to the LCOB, memo line Hygiene Kits.
Hygiene Kit value: $10
Processing/Shipping Cost: $2 per Kit
In addition to the 1200 hygiene kits that LCOB provides each year to CWS, we also go to New Windsor, Maryland, several times a year to help "process" Hygiene Kits sent there by other organizations from around the country. All of the kits need to be checked to insure that only the above items listed are in the kits that are sent out. This insures that all kits are as identical as possible so that no one at the receiving end of the process receives less than another. Additional volunteers are always welcome. If your group would like to schedule an event, please contact Russell Adsitt at rus_linda@peoplepc.com or at (717) 569‑0278 for more details.
---
SERRV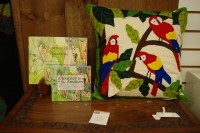 For more than 60 years, beginning after the end of WWII, SERRV has worked to eradicate poverty in poverty stricken and third-world countries by marketing their crafts and foods. They support their artisan and farmer partners in making sustainable development choices with materials and production techniques, financial resources and social programs that benefit entire communities.
As a nonprofit organization, they use all proceeds from sales and donations to promote these values in the 36 countries where they work.
To SERRV:
To promote a sustainable way of life
To value the lives of others
To believe in the goodwill of people
To build a strong community
To live and to cherish
To enrich and be enriched
To share in and take reward from
To treat friends and enemies as the same
To participate to live to breathe
To create a better future
To restore a damaged planet
To embrace a better lifestyle
To enrich the time I have with others
To add value comfort and support
To inspire others to SERRV
To eradicate poverty, wherever it resides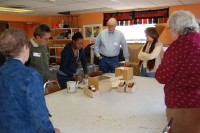 LCOB works with SERRV by volunteering at their New Windsor, Maryland warehouse to process gift items and crafts from bulk packages so that they are ready for individual sale. Bulk cases are unpacked, items are checked for damage and then they are priced for individual sale. These items are then repacked as individual units. We usually work about six hours in the processing center and are provided a lunch in return. Time for shopping is allotted and discounts are given.
Get Involved
We usually schedule trips to SERRV during the months of January–March (weather permitting) and July–September. This coincides with their heavy work periods. If you would like more information or want to schedule a trip for your group, please contact Russell Adsitt at rus_linda@peoplepc.com or at (717) 569‑0278.
---
2¢ a Meal Project
Some time ago, in order to help feed the hungry locally through the Lancaster Counsel of Churches and globally, through the Brethren Mission and Ministry Board, we initiated the 2¢ a Meal project. We ask our people to bring 2¢ for every meal as an offering. 1/3 is used by the LCCC, 2/3 goes to fight global hunger through our Mission & Ministry Board.
---
Be an Angel program: Children Matter!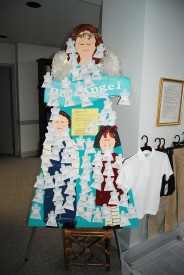 Dr. Wess Stafford, writing in Too Small to Ignore, says, "Few gifts on earth are as wondrous as the love of a child. Advocates for children know deep in their hearts the truth of the saying 'You never stand so tall as when you stoop to help a child'" (page 5).
The School District of Lancaster has between 1000–1200 homeless students, and for the past eight years the Lancaster Church of the Brethren has tried to "stand tall" each summer (June, July and August) as we purchase school supplies and uniforms for those homeless children. We call it our Be An Angel program. We will launch our 9th congregational effort on June 4, 2017.
In the past eight years, the Be An Angel project raised just over $110,000 in uniforms and school supplies.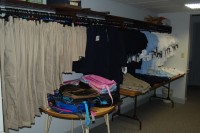 Uniforms are important to all children. They enable young people to dress essentially alike regardless of their economic status. When a child is homeless the funds to make that purchase are simply not available.
Dollars invested in others in need, especially children, produce great returns. A school uniform may encourage a child to stay in school and complete his/her education; it instills a sense of dignity to those who may not feel very worthwhile; and, the giver receives a great blessing as well.
Dr. Strafford writes these powerful words:
"Poverty whispers its destructive message into the spirit of a child: 'Give up, Nobody cares. You don't matter.'
It is a voice that wars against the truth of the Gospel: 'You do matter. God loves and believes in you.'
Children are victimized by war, pornography, and prostitution, as well as by lack of funding, feeding, educating, and protecting. Yet, in a few short years the world's challenges will be theirs to manage.
Now is the time to act on their behalf and invest in children … because they are too small to ignore" (Idem.).
The Lord asks, "whom shall we send, and who will go for us?" (Isaiah 6:8). May we respond as the prophet did—"Here we are; send us."
---
Bridge of Hope
Bridge of Hope is another agency to help fight homelessness which we support. It helps single mothers to become self sufficient and independent and make affordable housing available for her and her children. For further information, contact Executive Director Francesca Cane at (610) 280‑0280 or toll free at (866) 670-HOPE.
---
Into the Neighborhood Committee
Into the Neighborhood Committee's (INC) goals are to get to know the neighborhood better, to respond to the needs of the community, and to coordinate projects with area churches.
Get Involved
Get involved by attending INC events or contact the church office to be connected with one of our committee members via email at office@lancob.org.
Into the Neighborhood Committee members include Calvin Wenger, Cindy Lattimer, Jeff Rill, Monroe Allen Hansell, Hank & Theresa Herr, David Hosler, Kathryn Riegen, and Suzanne Schaudel.
Other INC Events
Film Discussion Night—INC (LCOB's Into the Neighborhood Committee) hosts community movie nights in our Family Life Center twice a year. This invitation is extended to all in the neighborhoods surrounding the churches in the Grandview Heights area. Keep checking back to find out when our next Movie Night will be held.
Prayer Breakfast—When a small group of persons gathered early on a Wednesday morning in 1987 for a simple Prayer Breakfast, little did they know that 25 years later the Prayer Breakfast would still be going strong. Members, friends and neighbors in the community are invited to stop by any Wednesday morning at 6:50 to join in an hour of sharing food and concerns for others.